Summer Fashion Ideas: Sporty Spanish
They used to call them pedal pushers back in the day, but it's clear capri's are no where near going out of style. This
Carry On Capri
($29.99 at Alight.com) is not only sexy and fashion saavy, but it's multi pockets make it highly functional too, so it's perfect for those wallet free days. The wide pockets flatten your front and accentuate the hips, and the length shows just the right amount of leg.
Let's face it. This top is just hott. The flutter cap sleeves are cute and dainty, and the V collar draws attention downward, minimizing an otherwise large rack. The fitted empire waist is great for hourglass figures and creates an illusuion of a longer torso. The embroidered floral accents disguises tummy bulges. Very spanish and sweet. This one is
Country Cool by Blue Plate
($38 at Alight.com).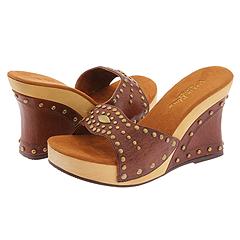 Anybody who knows me knows that I am a self-confessed shoe addict. I have a tons of shoes in my closet. I simply can't walk away from a good looking sandal and these
Pueblo Grometted Wedges by Paris Blues
will likely be no exception ($49.95 at Zappos.com) Shoes like this are meant to be worn all summer long, as they're certain to go with any jean or skirt in your closet. And don't let the wood frame fool you. The leather inosole likely makes them cushy and comfy. Show them off with pretty tomato red toenails.
Cabbie anyone? If you're a hat person, you might find this
Brown Starburt Studded Cabbie Cap
($13.50 at Torrid.com to be an inspried, yet subtle touch to top off your new look. It's pretty, but none at all flashy. The starburts grommets add a spice to it's otherwise simple fabric. I love the "military" shape. Plus, it accents those pueblo wedges pretty well
No look is complete without a cute peice of jewlery. This spanish insprired
Black Wood Bead Rope Bracelet
($6.00 at Torrid.com) is a perfect little trinket to add to your outfit. The fact alone that the square beads have religious icons emblazoned on their faces, makes it a chic little conversational peice in my book, at church or at play. ;)