Nobody likes a square...
Get your inner Gwen or Kelly on speed dial and turn it up a notch with a punker impersonation of your own. This cute little number is sexy, funky, punky, but most importantly, oh so bad. ;)
Rebel With A Cause...
Rebel in Mint

tank style hooded tee
($38 at sizeappeal.com)
Rock Steady...
Rock Steady skirt by Fubu
($27.99 at Alight.com)
Grommetess...
Black Diamond Stud Belt
($20 at torrid.com)
Arch-Angel...
Silver Wing Earrings
($6 at torrid.com)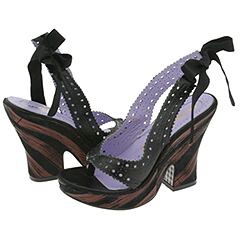 Harajuku Girl...
Glam Rock by Irregular Choice
(143.95 at zappos.com)